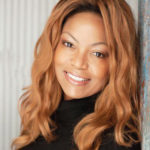 Growing up in multiple States in the U.S.... Jara Everett was destined for greatness!
At the tender age of eight, Jara began writing, acting and studying singing. In 1994, she joined a female singing group from Chicago on Columbia Records Label called "S.T.O.P." for one year. In 1995, she entered the Miss Illinois Pageant where she was crowned Chicago's Most Beautiful Girl.
Jara continued to define and study her talent as a dancer, singer, rapper, actress which in turn, landed her being casted in Shelley Garrett Productions' "Beauty Shop 2", a 23 state tour across the United States. Through this production, Jara was able to utilize her talents as a dancer and an actress.
While touring, Jara Everett decided she wanted to pursue acting in film and as a result was able to be casted in various acting roles including "Ladies of Englewood", an independent film produced by Kim King and David Lee as well as other independent films.
In 2005, Jara found herself in the rap game after meeting Shawty Redd and 404 Soldiers. As a result, Jara rapped on various albums including being featured with 404 Soldiers "We Some Riderz" 2005; "White Tee's Female Remake" 2006; "Trick Trick" feat. Nate the Great 2006; "Get Off Me" feat. Shawty Redd 2006 and featured on "Burning Up" by Young Jeezy 2006. In addition, Jara sang background for Trillville "Do it Then" 2007.
TODAY... Jara Everett continues to rise, shine, empower and pursue her goals through her own production and brand Jara Everett, LLC. The first project; writing and self-publishing her autobiography "JumpOff" 2012 (Jara's life experiences with the likes of Tupac, Suge Knight, R. Kelly and others). In addition, Jara co-wrote/produced "JumpOff" the song through a joint venture with R.W. Productions, Inc.. The song is the first of its kind to be distributed simultaneously alongside a book!
The future of Jara Everett is open, clear, promising and obtainable! There are talks of a movie, another book and a new cd.
Yes, it is Jara's destiny to be GREAT! The next stop with a Giant Step is the Grammy's and Academy Awards.....~